---
Cumin Lamb Noodles
Restaurant-style cumin lamb noodles are made with homemade hand-pulled noodles and tender chunks of lamb that make for a bold taste in an addictive chili oil sauce.
If you've been to New York, perhaps you've heard of Xi'an Famous Foods. This restaurant is legendary for its cumin lamb noodles and Chinese pork burgers. And if you haven't been, until you can come here and experience them yourself, you can make them in your own kitchen.
This dish is definitely not a weeknight dinner if you want to make it with homemade hand-pulled noodles (recipe coming soon), but it is absolutely worth every effort. In the original recipe, the secret sauce for cumin lamb noodles uses 30 spices! Don't worry, my version of cumin lamb noodles takes an easier approach to recreating this heavenly and boldly flavored dish that tastes just as great.
My version of cumin lamb noodles also uses ingredients that are closer to what I found when I was traveling in Xi'an. I added cilantro and skipped out on the celery and cabbage that the restaurant uses in its famous recipe. But one thing I didn't skip is making the hand-pulled noodles. That's what really gives this dish the Xi'an Famous Foods' flavor and style.
I have a recipe for hand-pulled noodles (coming soon) and I promise, they are really easy to make, even if you've never made homemade noodles or pasta before in your life. And believe me, they taste so much better. You'll see!
Lamb meat & cutting method
What cut of lamb to use
A well-marbled cut is the best, such as loin or shoulder. However, a tender and fatty cut might be hard to come by. You can ask your local butcher for a recommendation depending on the availability. If they carry large pieces of stew meat, you might be able to cut them into slices and use them in this recipe.
How to cut lamb meat
Handling the lamb meat properly is key to making a great plate of stir fry. Sometimes you might get a cut with a lot of connective tissue, like the lamb shoulder I got from Whole Foods. It's important to remove these tough white parts and membrane-like layers. Otherwise they will end up very tough and chewy once cooked.
Ingredients
To get the best taste, we used whole spices, dry roast them to release fragrance, then grind them fresh. It doubles the fragrance you usually get from using ground spices. I highly recommend you to do the same for this dish.
It's also very important to cut and prepare all the ingredients before you start cooking. Lamb meat is prone to overcooking and will taste like dry cardboard if you do not move fast enough during the cooking.
Alternative to hand-pulled noodles
If you do not want to make hand-pulled noodles, the best alternative is the wide semi-fresh noodles. You can usually get them at an Asian market's refrigerated section. They might be labeled "pulled noodles", "planed noodles", "sliced noodles", or "cut noodles". There are several brands I like including the package shown below. You can usually judge by the look of the noodles, they are fatty and wide.
Note: If you are in Arizona like us. We like to get these noodles from the International Markets Place in Mesa, AZ Asian District.
Cooking process
Once you're done prepping, the actual cooking process is actually super fast.
Sear the lamb
Add the aromatics – ginger and garlic
Add the onion and pepper for a quick stir fry
Mix with the dry spices
Pour in the sauce
Quickly mix again
Mix with the cilantro
Add to the plate of noodles and serve
Chili oil alert
This dish is a phenomenal and indulgent treat. You'll 'WOW' guests at a dinner gathering or have a wonderful dinner for two on the weekend. However, be advised that this is NOT a diet-friendly dish. Cumin lamb noodles use a lot of homemade chili oil(half a cup, as a matter of fact!) to create the sauce just like the restaurant's.
I get it that might be a lot of oil for you, but you can reduce it to 1/4 cup and simply add more when you serve it. Don't worry…homemade chili oil is not super spicy so you won't wind up with more heat than you can handle, just bold-tasting flavors in every bite.
---
---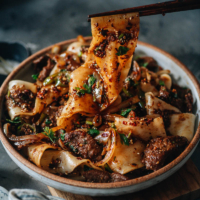 Cumin Lamb Noodles
Restaurant-style cumin lamb noodles are made with homemade hand-pulled noodles and tender chunks of lamb that make for a bold taste in an addictive chili oil sauce.
Prep Time: 25 mins
Cook Time: 5 mins
Course: Main
Cuisine: Chinese
Keyword: restaurant-style
Servings: 4 servings
INGREDIENTS
Noodles
1 batch homemade hand-pulled noodles (or wide wheat noodles) (*Footnote 1)
Spice Mix *(Footnote 2)
2 tablespoons whole cumin seeds
2 teaspoons sichuan peppercorns
1 teaspoon whole coriander seeds
Meat & Marinade
1 lb (450 g) lamb , thinly sliced against the grain (well-marbled cut like loin or shoulder)
1 tablespoon Shaoxing wine (or dry sherry)
1 teaspoon salt
1 teaspoon peanut oil (or vegetable oil)
2 teaspoons cornstarch
Sauce
1/2 cup homemade chili oil (and more to taste) (*Footnote 3)
3 tablespoons chinkiang vinegar
1/4 cup Shaoxing wine (or dry sherry)
4 teaspoons light soy sauce
4 teaspoons dark soy sauce
Stir Fry
1 tablespoon peanut oil (or vegetable oil)
8 cloves garlic , minced
2 " (5 cm) ginger , minced
1 red onion , thinly sliced
1 hot green chili , sliced
1/2 bunch cilantro , chopped (yield 1 heap cup loosely packed cut cilantro)
INSTRUCTIONS
If making your own noodles make sure the dough is fully prepared before beginning the lamb stir fry. Set a pot of water to boil so that it will be ready to boil the noodles as soon as the lamb is done.
Prep
Add the cumin, Sichuan peppercorns, and coriander to a dry pan and heat over medium-low heat. Stir and toss frequently. Toast until the spices are fragrant and beginning to pop, about 5 minutes. Take the spices off the heat and grind until partially powdered. You can use a mortar & pestle, a spice grinder, a coffee grinder, or by crushing the spices with the bottom of a heavy pan.
Combine the lamb, Shaoxing wine, salt, oil, and 2 teaspoons of the ground spices and mix. Add the cornstarch and mix by hand until the lamb is fully coated. Marinate for 15 minutes.
Cook lamb sauce
Add the oil to a large skillet and heat over high heat until the oil begins to smoke. Add the marinated lamb and spread it into a single layer. Separate the individual slices with minimal overlapping using a pair of tongs or chopsticks. Add the garlic and ginger on top. Leave the lamb to sear for 30 seconds to a minute until the bottom is browned.
Once the lamb is browned on one side, stir occasionally until the lamb is mostly browned on both sides and the aromatics begin to turn golden. It's OK if the inside of the lamb is still slightly pink.
Add the red onion and green chilis. Stir fry for 10 to 20 seconds.
Add the spice mix and toss to coat everything with the spices.
Pour in the sauce and scrape the bottom of the pan to lift any caramelization. Stir fry for another 30 seconds.
Turn the heat off and add the cilantro, stirring to incorporate. Transfer everything to a big plate so the lamb stops cooking.
Boil noodles
If using hand-pulled noodles – Take your prepared dough, stretch each piece, and add it to the boiled water. Cook them for 1 to 2 minutes.
If using packaged noodles – cook them according to the instructions.
Transfer the cooked noodles into 4 bowls.
Serve
Add the lamb and sauce over the noodles. You can add extra chili oil, chinkiang vinegar, and soy sauce to taste. Enjoy!
NOTES
You will need about 2/3 batch of the hand-pulled noodles for this dish if you like an intensive result (like the restaurant version). But I recommend making the whole batch so you will be sure to have enough noodles, and maybe some leftovers.
You can use pre-ground spices but you may want to increase the amount by 1 teaspoon each as they will be less fragrant. If you do, skip step 2 and when you add the spices in step 6, stir fry for 10-30 seconds, until the spices are fragrant, before adding the sauce.
If 1/2 cup chili oil sounds like too much to you, use 1/4 cup in the cooking and add more later if needed.
NUTRITION
Serving: 1serving, Calories: 531kcal, Carbohydrates: 42.6g, Protein: 29g, Fat: 27.4g, Saturated Fat: 5.3g, Cholesterol: 100mg, Sodium: 946mg, Potassium: 514mg, Fiber: 3g, Sugar: 6.5g, Calcium: 78mg, Iron: 5mg