These southern-style Collard Greens are slow simmered greens with bacon, onion, garlic and a perfect blend of seasonings to give it that down home fresh off the farm southern touch. This comfort side dish is one of our absolute favorites and you don't have to be a southern cook to master them. I love to serve it with fried pork chops, rice, black-eyed peas, and cornbread.
If your family is anything like mine than coming up with tasty side dishes that have not been served a gazillion times is always a challenge. If you have never tried collard greens or maybe you just simply have not made them in years than these are a must try.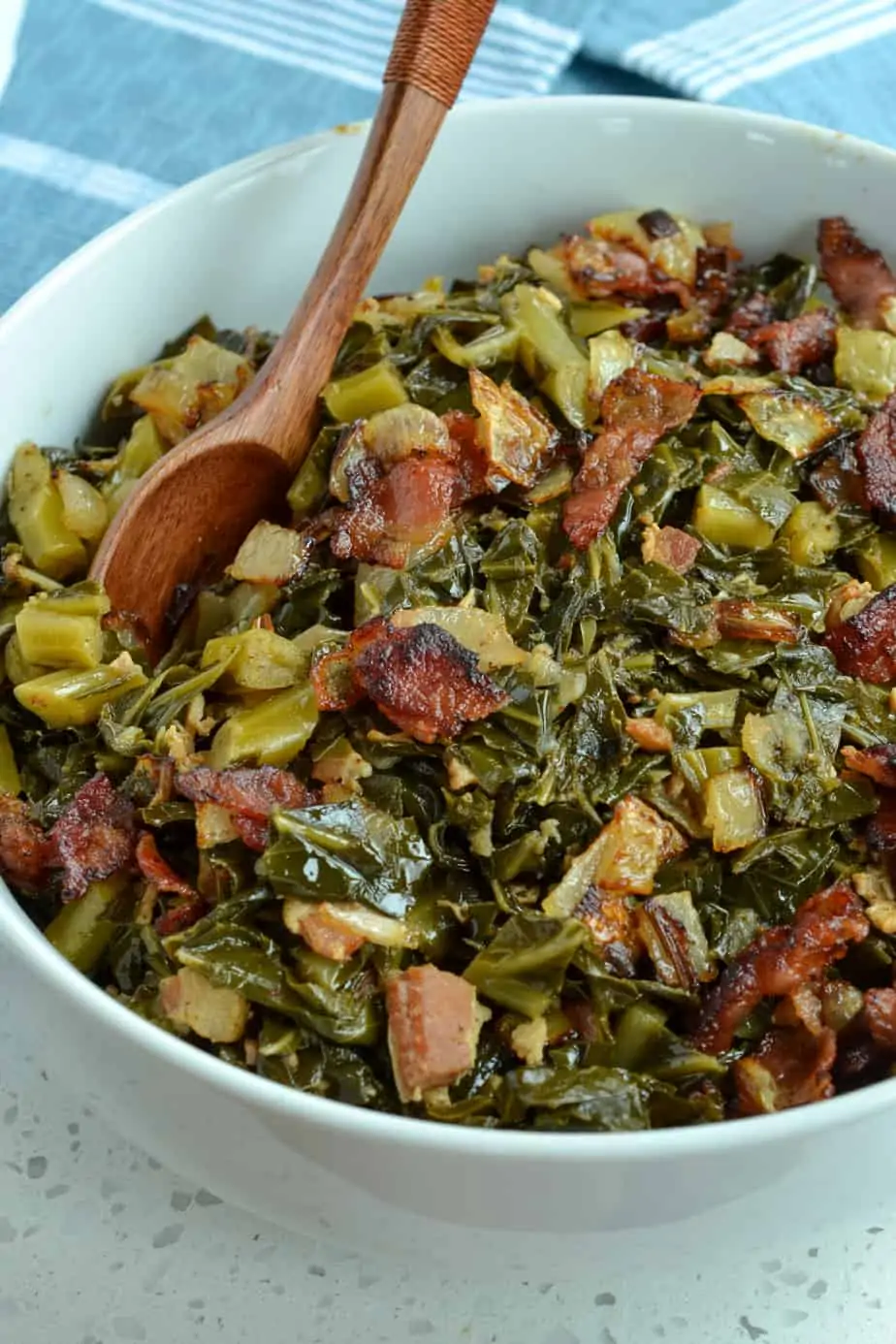 WHAT ARE COLLARD GREENS?
They are loose leafed greens from the same family as mustard greens, turnip greens, broccoli, kale, and cabbage although my husband swears that they taste like green beans. I like them better than mustard greens and kale. They are a staple at most southern meals and absolutely delicious when slow simmered with bacon or ham hocks. Fresh collard greens are in season from January to April.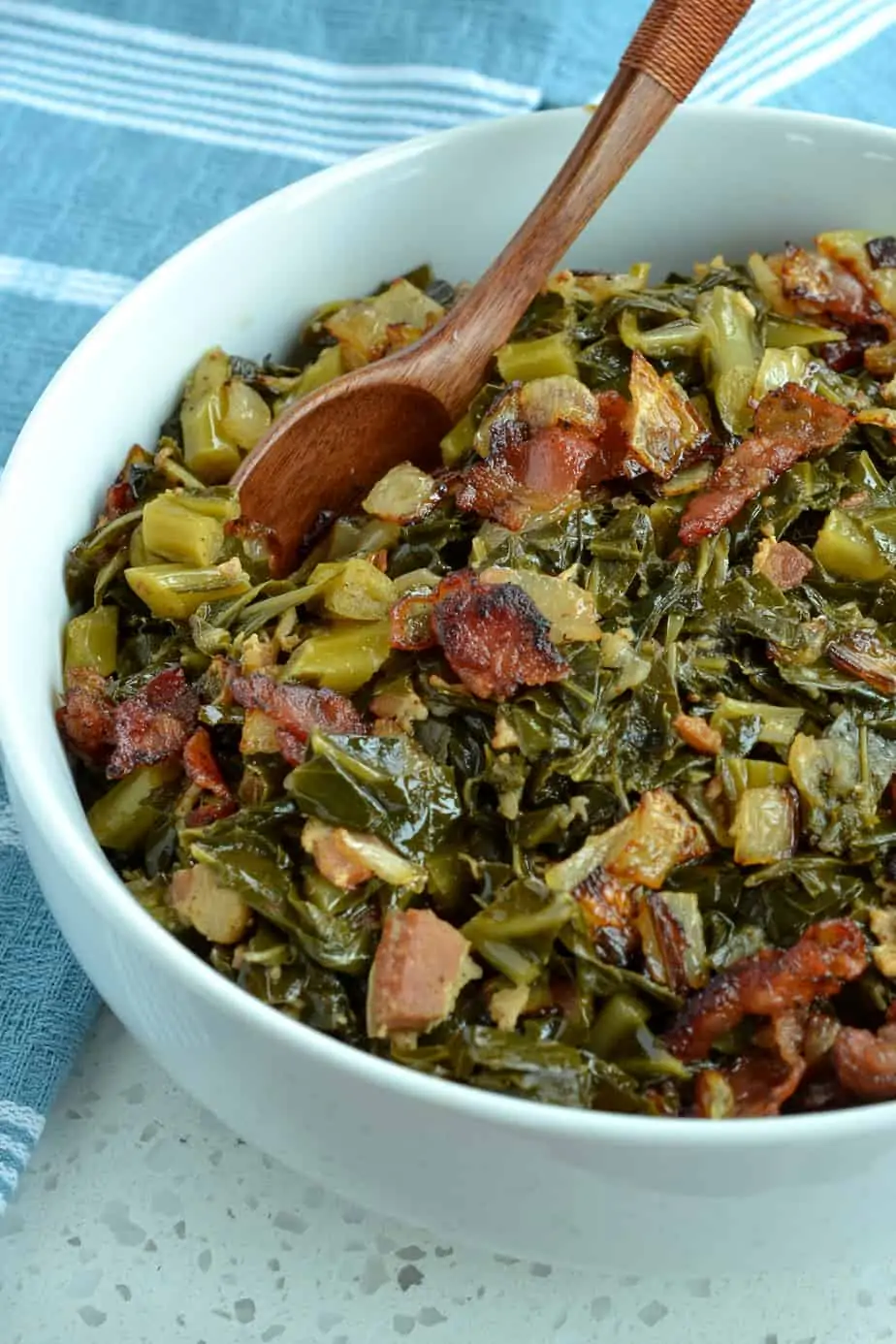 HOW TO COOK COLLARD GREENS?
Start by cooking your bacon and onions until the bacon is crisp and the onions are soft. Then add your garlic and cook for about 1 minute stirring constantly. Next add the greens and cook until they start to soften and wilt. Stir in the chicken broth, apple cider vinegar, sugar, Cajun seasoning, paprika, and red pepper flakes. Cover and simmer for about 1 hour letting the liquid cook down and the greens really cook tender. Then drain most of the excess chicken broth or use a slotted spoon to remove. For best results serve promptly with a side of hot sauce.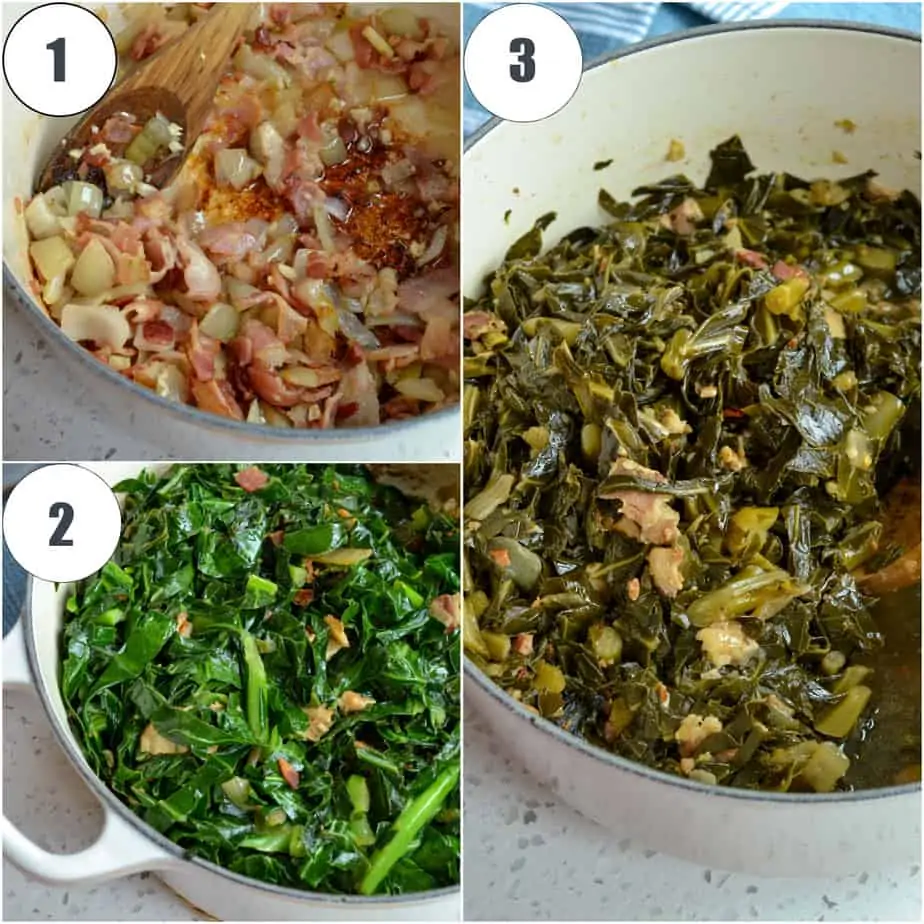 RECIPE NOTES AND HELPFUL TIPS
Look for greens in the refrigerated produce section of your local grocery store next to the kale and other greens. The freshest collard greens are in season from January through April.
Pro-tip – Bacon is easier to chop when frozen or partially frozen.
When picking the greens look for dark green leaves that are not wilted and blemish free. See below for tips on prepping and trimming them.
After cooking save the pot liquor in an airtight container in the fridge for up to 5 days to flavor soups and stews.
Just like spinach the greens cook down in volume. A whole lot of greens cook down to several cups. So add some of the greens to the pot cook them down to wilted and add some more. Repeat till everything fits in the pot and the greens are wilted down before proceeding with the rest of the recipe.
Save a little bit of the crispy bacon to garnish the top.
They are best served promptly however leftovers heat up well in the microwave at a reduced power.
Store leftovers in an airtight container in the refrigerator for up to 3 days.
To freeze simply add fully cooled collard greens along with the pot liquor to a heavy duty freezer bag. Flash freeze by laying flat on a baking sheet in the freezer. Once fully frozen store the bags on their side for easy access. Freeze for up to 3 months. Thaw in the refrigerator overnight and heat on low on the stovetop.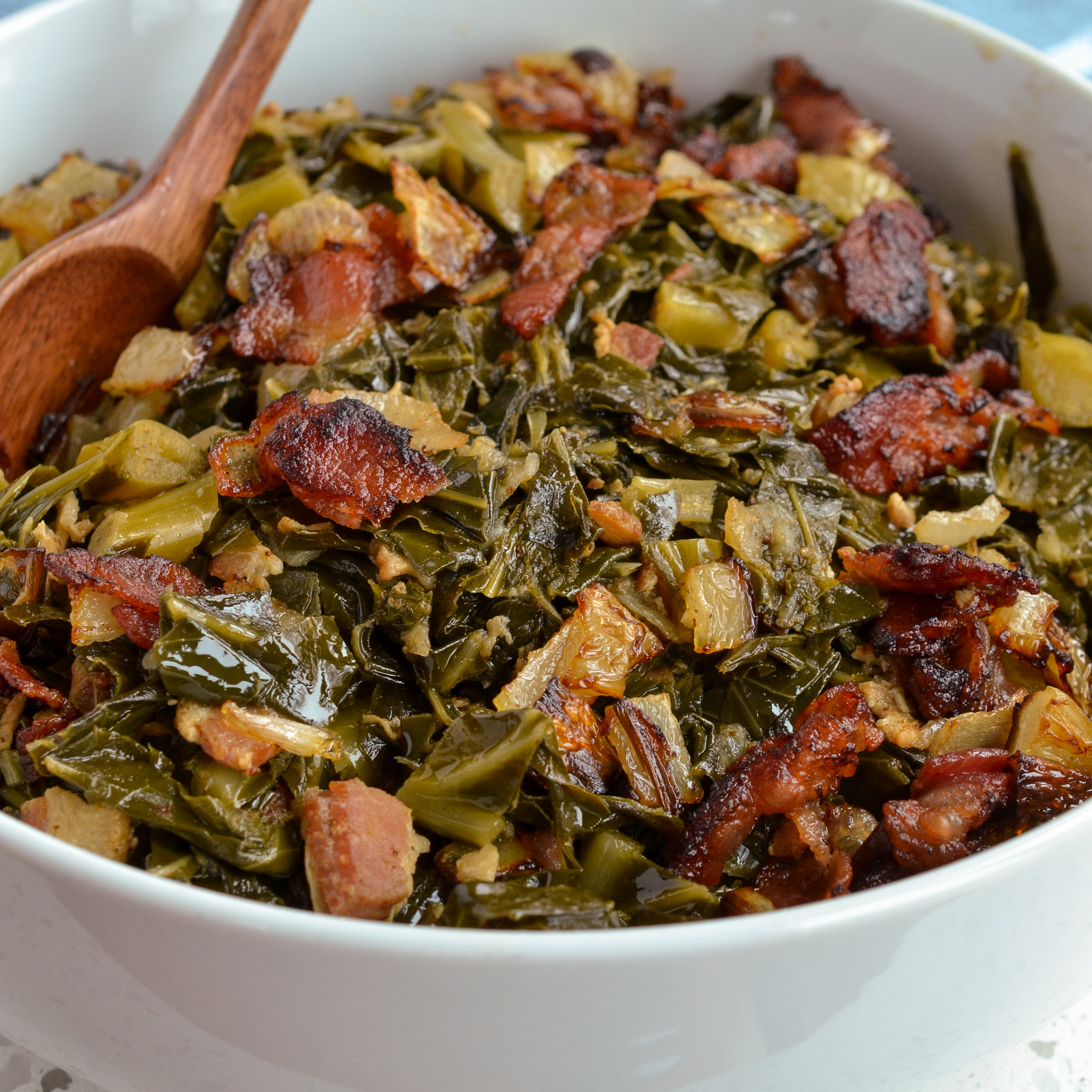 HOW TO PREP AND TRIM THEM
Either rinse the leaves under cool water or wash the them in a large sink full of cool water to remove any dirt and grit. Then dry well with paper towels. Now simply fold the leaf in half lengthwise making it easy to remove the tough stem and thick ribs. Then using a sharp knife cut away the stem and ribs. Now lay the leaves on top of each other in a somewhat orderly stack and cut to desired size. Some stores sell prepackaged collard greens that are prepped, washed and ready to go.
If you try this recipe or any of my tasty drinks or treats, make sure to take a picture and tag me on Instagram! I love to see your creations! And don't forget to follow me on Pinterest for more loveliness, too.
---
Southern Collard Greens Recipe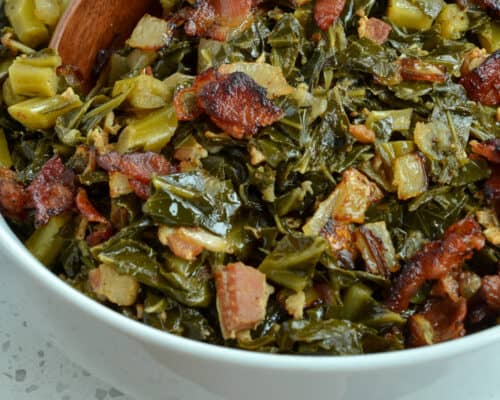 These scrumptious and easy Southern Collard Greens are the perfect side for all your favorite southern main courses like fried catfish, Hamburger Steak, fried chicken, and smothered pork chops.
Prep Time: 15 minutes
Cook Time: 45 minutes
Total Time: 1 hour
Yield: 6 servings
Cuisine: American Southern
INGREDIENTS
8 slices bacon chopped
1 medium onion finely chopped
3 cloves garlic
1 lb collard greens washed, trimmed, and cut
3 cups chicken broth (enough to cover the greens)
1 1/2 teaspoons apple cider vinegar
1 tablespoon sugar
½ teaspoon cajun seasoning
¼ teaspoon smoked paprika
¼ teaspoon crushed red pepper
Salt and pepper to taste
INSTRUCTIONS
In a large Dutch oven or pan over medium heat brown the bacon. When the bacon is about halfway browned add the chopped onion. Cook until the bacon is browned and the onion is soft. Add the garlic and cook for 1 minute; stirring constantly.
Add the collard greens and cook until wilted and slightly softened. Add the chicken broth, apple cider vinegar, sugar, Cajun seasoning, paprika and crushed red pepper. Cover and simmer 45-60 minutes letting the liquid cook down and the greens really soften. Then drain most of the liquid or use a slotted spoon to remove. Salt and pepper to taste. For best results serve promptly.
---
Recipe Credits to smalltownwoman.com