Pineapple Coconut Smoothie
This pineapple coconut smoothie is packed with sweet pineapples, creamy coconut milk, and delicious shredded coconut. It's the perfect flavor combo when you're craving a quick, tropical flavored smoothie!
Have you ever had one of those mornings when you are craving an easy smoothie? Our pineapple coconut smoothie is exactly that.
This pineapple coconut smoothie is hands down my favorite smoothie! I always keep several cans of coconut milk on hand and have a couple of bags of frozen pineapple in the freezer.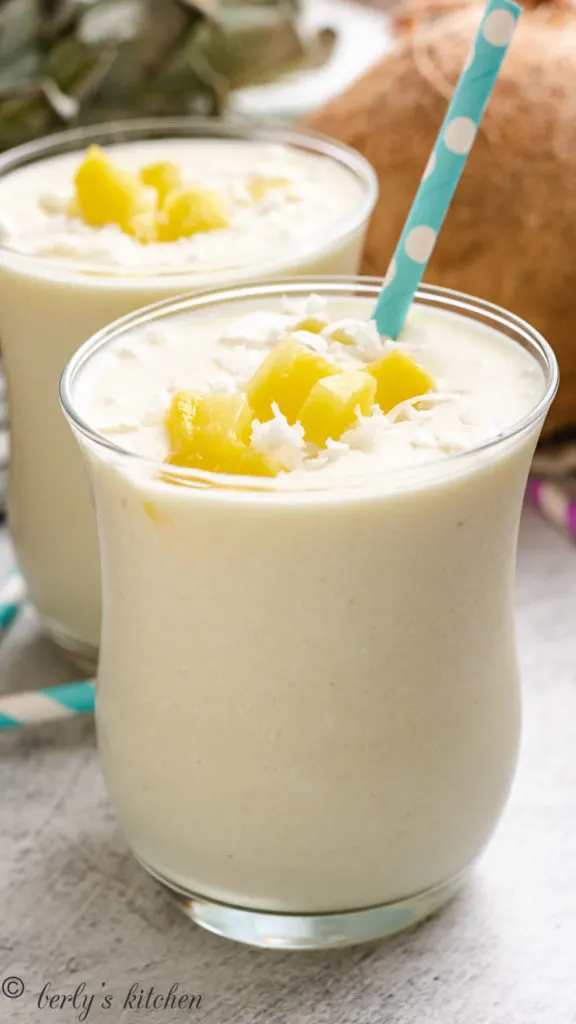 It's loaded with creamy coconut milk, naturally sweet pineapple chunks, and shredded coconut. Occasionally, I'll add an extra ingredient like a touch of honey or scoop of protein powder.
The full-fat coconut milk gives this smoothie a full-bodied creaminess that other smoothies just can't duplicate. Best of all, there are only four ingredients to this drink. So, you know what you are drinking.
How to make a pineapple coconut smoothie: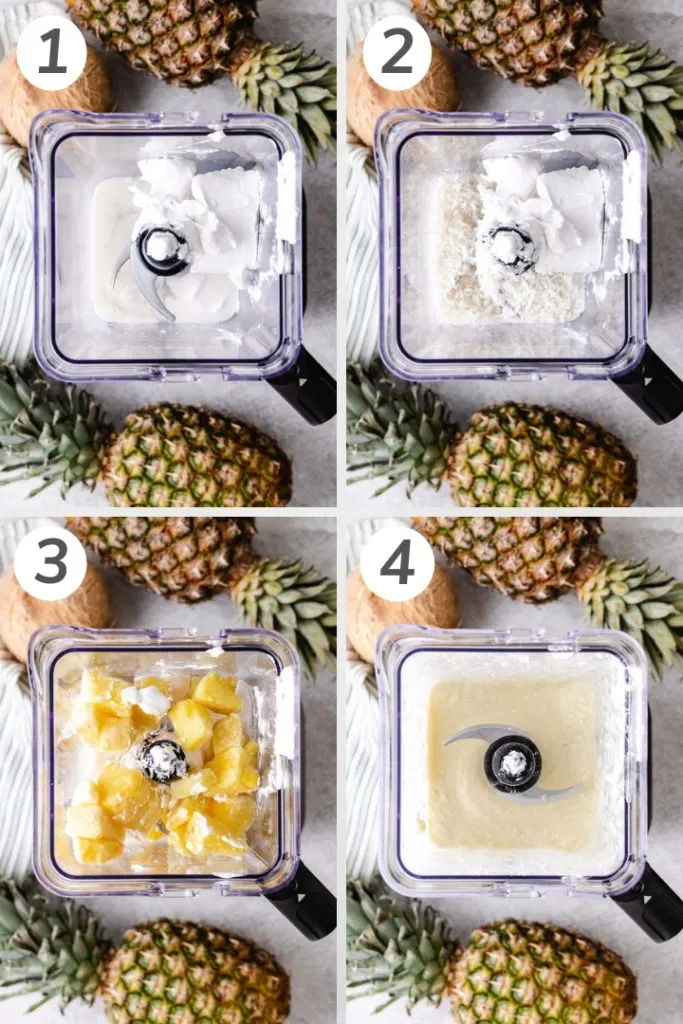 The smoothie is simple to prepare and only takes a few minutes to gather everything up and blend them together.
Another benefit to using our recipe is that it doesn't have a single scoop of ice cream. If you have ordered something like this in a restaurant or drink bar, then it most likely had ice cream as the main ingredient.
Frozen dairy products tend to be packed with sugar. No worries here, because we use coconut milk instead.
If you wish to reduce the fat content, you can always use a low-fat version of the coconut milk. While I cannot comment on its taste, I feel it's still a better option than a frozen dairy product.
What add-ins can you put in a pineapple coconut smoothie?
There are several things that work well in this smoothie. Just keep in mind when adding ingredients that thicken the smoothie, more liquid may need to be added to adjust the consistency.
Here are a few ideas:
Honey
Shredded Coconut
Pineapple Juice
Coconut Water
Papaya
Mango
Rum 🙂
Can you use carton coconut milk in place of canned?
We don't recommend using carton or refrigerated coconut milk in place of canned. As mentioned earlier in the post, many chain smoothie stores use ice cream as a base for their smoothies which gives them a creamy consistency.
The canned coconut milk is meant to replicate that same consistency without the high sugar amounts that are found in ice cream. Using refrigerated coconut milk won't yield the same thick, creamy consistency.
Can you use low-fat coconut milk in place of full-fat?
Yes, you certainly can; however, it may not be quite as thick and creamy as the smoothie with full-fat coconut milk.
If you try this recipe or any of my tasty drinks or treats, make sure to take a picture and tag me on Instagram! I love to see your creations! And don't forget to follow me on Pinterest for more loveliness, too.
---
Pineapple Coconut Smoothie
Prep Time: 10 mins
Total Time: 10 mins
Servings: 4 Servings
Calories: 318kcal
Ingredients
Instructions
Place all the ingredients into a blender, and process until smooth. Add additional milk or coconut water to reach the desired consistency. 13.5 ounces full-fat coconut milk, 12 ounces frozen pineapple chunks, ¼ cup almond milk, ½ cup unsweetened shredded coconut
Pour into glasses, and top with fresh pineapple chunks and shredded coconut if desired. Enjoy immediately.
Notes
*The calories listed are an approximation based on the ingredients in the recipe card and a serving size of 1 (6-ounce) smoothie. Actual calories will vary.
*For more information, tips, and answers to frequently asked questions, please refer to the post.
Nutrition
Serving: 6ounces
Calories: 318kcal
Carbohydrates: 19g
Protein: 3g
Fat: 28g
Saturated Fat: 25g
Polyunsaturated Fat: 0.4g
Monounsaturated Fat: 1g
Sodium: 38mg
Potassium: 379mg
Fiber: 3g
Sugar: 13g
Vitamin A: 43IU
Vitamin C: 9mg
Calcium: 53mg
Iron: 4mg
---
Recipe Credits to berlyskitchen.com
---
Amazon Links: